Covenant Men International
Our Purpose
There is in most men the desire to build, to create, and to be successful. The farmer wants the best possible farm, the most crops he can raise; the entrepreneur wants to build the business and maximise profit; the attorney wants to win as many cases as he can; the doctor wants to see his patients cured; the athlete wants to win all his games.
With our focus on outer success, so often we men become spiritually impoverished without perhaps realising it, most times having done all we know to do and yet there is a sense of in-completion about it all.
Men these days are waking up to the fact that we have a purpose in life, we have sons and daughters to lead into adulthood, wives to love and cherish and work to do. Men are becoming hungrier for achievement both in spiritual matters and the secular issues. It has come to a time when we aspire to develop solid, confident men who are not afraid to make mistakes, men who would inspire others to follow them. Men who lead out of love, compassion and respect for others and who lead because they have a vision of some meaningful place to take those who follow them.
Evidence of this awakening is seen in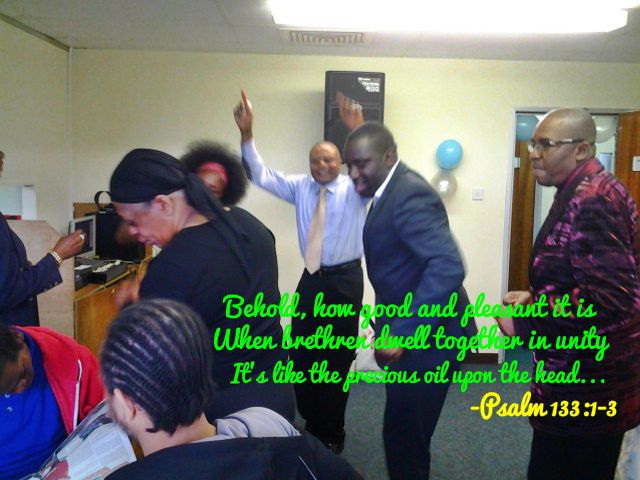 such a group as the Covenant Men where Christian Men are encouraged to commit to seven specific promises that require action on their part. What God seems to be calling us to is the realisation that our best source of manhood is rooted in Christ. When we abandon our own fancy ideas and the world's deceptive concepts of masculinity, and replace it with a total submission to be the man God formed us to be; the result of our new found self is a fresh wave of evangelism through our character and the level of integrity that we are able to exhibit outside the Church.
Covenant Men are men of destiny and integrity who meet in small groups to help each other according to Proverbs 27 vs 17 "As iron sharpens iron, so a man sharpens the countenance of his friend."
Our aims are
Total commitment to Jesus Christ through Worship, Prayer and Obedience to His Word. Jeremiah 29 vs 13 "You will seek me and find me; when you seek me with all your heart."

Meaningful relationship and fellowship with other men on a regular basis, keeping in touch for the purpose of building each other to an acceptable standard before the Lord. I John I vs 7 "But if we walk in the light, as He is in the light, we have fellowship with one another."

Morality, Purity and Spirituality in all conduct of life and relationship. I Timothy 4 vs 12 "Be an example to the believers in word, in conduct, in love, in spirit, in faith and in purity."

Commitment to build strong marriages and families through love and biblical values. I Timothy 3 vs 12 "Let men be the husbands of one wife ruling their children and their own houses well."

Supporting the church by honouring and praying for the pastor(s), and by giving of time and necessary resources. I Timothy 2 vs 8 "I desire therefore that men pray everywhere, lifting up holy hands, without wrath and doubting."

Reaching out a hand of fellowship to other churches and reconciliation to the neighbourhood to demonstrate the love of Christ. Leviticus 19 vs 18 "Love your neighbour as yourself."

Be a positive influence in the world and obey the command of Jesus to preach the gospel to every creature winning souls for the kingdom. Mathew 4 vs 19 "Follow me and I will make you fishers of men."
In essence we find that we have commitments to God, His church, our home and the world at large. Ecclesiastes 3 vs 12 "I know that there is nothing better for men than to be happy and do good while they live." In our aspiration to build the total man we are aware that it takes time to conform our lives to Jesus Christ. It is a lifetime process and there is no quick route available to become a man of God. Apostle Paul wrote in Philippians 3 vs 12 "Not that I have already obtained it, or have already become perfect, but I press on in order that I may hold of that for which also I was laid hold of by Christ Jesus."